Paranormal Shopping Network Kicks off Zombie Awareness Month with New Video, Zombie Adoption Drive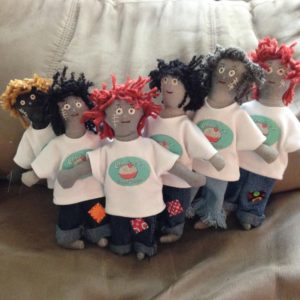 SEATTLE, WA, UNITED STATES, May 9, 2016 — May is Zombie Awareness Month, and the Paranormal Shopping Network is all in! The web series opened its first season on April 7 with an ad for Christie's Cranial Delights, which offers lab-grown, mail-order brains for domesticated zombies. And to celebrate the month, the PSN is hosting a zombie adoption event through its Facebook page. Don't worry: the brains are fiction, and the zombies that will be "adopted" are actually hand-stitched rag dolls.
The web series takes a unique position on zombie-dom, claiming that all zombies can, in fact, be domesticated if cared for properly. "If a loved one were to become a zombie, we believe most people would choose to care for him or her, as long as it's possible to do so safely," says writer/producer K Bethany Sawyer. The Paranormal Shopping Network is designed around fictional products that would support such care, as well as products for other supernatural creatures.
The PSN's next episode launched today and is an ad for Transylvanian Breath Mints, geared toward vampires who want to hide their blood breath from unsuspecting victims. "This episode doesn't feature zombies, but attentive viewers will notice tie-ins to the first episode," Sawyer explains. Additionally, the PSN's fictional blog, "Dear Abigail"—written by the fictional character Abbi Normal—will feature zombie-themed questions, such as whether or not someone is free to date if their spouse has become a zombie.
A guide to zombie care, including advice on diet, hygiene, and exercise for a domesticated zombie, is made available to anyone who subscribes to the PSN's monthly newsletter. A subscription form is located online at www.paranormalshoppingnetwork.com.
The series is directed by Kent, Wash., resident Micaela Colman and stars local actors Lucy Pearce, Greg Gutshall Jr., John Hambrick, and Emily Fortuna. Filming was completed last summer in Kent, Seattle, and Bothell. The season finale will be released on June 7.
About Paranormal Shopping Network
The Paranormal Shopping Network is a fan-funded satirical web series that provides a unique perspective on American culture and consumerism. Its first season consists of three commercials of fictional products for zombies, vampires, and ghosts. For more information, visit www.paranormalshoppingnetwork.com.