Lucy Pearce
Lucy Pearce is excited to be part of this project. Born and raised in England (Happy July 4th!), she has lived joyfully in the States for 12 years, but is still only 19 . . . .
Lucy's credits include a dramatic reading at Whidbey Island Center for the Arts of Edgar Allan Poe's works, Hattie in The Underground Theatre Company's production of Laundry & Bourbon, Mother Samsa in Ghost Light Theatrical's production of Franz Kafka's Metamorphosis, Katrin in Mother Courage and Her Children, as well as Emilie in Bertolt Brecht's Baal at the Sheridan Theatre in London. A graduate of Italia Conti Academy of Theatre Arts in London and The Second City in Hollywood, Lucy has also appeared in various short films, improv and sketch comedy shows. In her spare time she is a singer/songwriter, poet, veg grower and cheeky Brit.
Read more about Lucy at cni.castingnetworks.com/talent/profile/1116744
Greg Gutshall, Jr

Delivery Guy (Vampire)
Greg Gutshall, Jr was born and raised in Florida and started modeling when he was 22 years old. After gaining experience and recognition as a model, he decided to transpose his talents to acting. He was quickly cast for several commercials, music videos, promotional advertisements and short web series.
Greg and his girlfriend, Maria Rybakina, moved to the Northwest in March, 2015. Since then, they've resumed their acting careers and have been cast in several short films, a web series and a commercial. They're excited to participate in the 48 Hour Film Project in July. Greg feels honored to be part of the film industry and looks forward to expanding his experience in the Seattle film community.
Emily Fortuna
Emily Fortuna is a plucky film and theatre comedienne who sees herself as a sillier version of Buffy the Vampire Slayer. Originally from Texas, at Rice University she received a Sammy Award as the Bset Supporting Actress for her role in the original musical Hello, Hamlet. Her film projects include both features and shorts such as Last Stop and her current favorite (until Paranormal Shopping Network wraps), Cold Feet. When not acting, Emily can be found sculpting with polymer clay, cooking, gardening, playing games (of both the board and video variety) or programming computers at a popular search engine company.
For more information about Emily, visit her website at www.emilyfortuna.com.
John Hambrick
John Hambrick has been acting from a very early age. After appearing in a school production of "Little Abner", he then appeared in multiple stage shows throughout school and afterwards, including "The Laramie Project", "Twelfth Night"and "The Merry Wives of Windsor", as well as performing with the Mayhem And Mystery Dinner Theater group. John first got into film a few years ago, appearing in such films as "Scarewaves", "You Will Go Darker"and "Alone in the Ghost House". He recently moved to Seattle from Dayton, Ohio and is absolutely thrilled to be working with the Weekend Warriors Film Group.
More information about John is available at www.talentpages.com/johnhambrick.
Connor D. Fogarty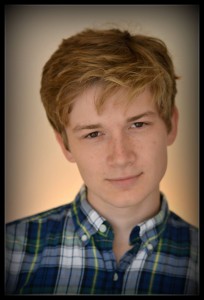 Off-Screen Announcer
Born and raised in Portland, Oregon, Connor D. Fogarty is entering his last year as Theatre and Psychology student at Seattle University.  Always having a knack for impressions and breaking into characters, Connor decided to give acting a try in his senior year of high school.  After being cast as Dr. Einstein in Arsenic and Old Lace, he was hooked on this idea of character acting.  Since then, he has appeared in a number of plays and films.  Last fall, he played the Shakespearean character Lord Dumaine in the imagined sequel to Love's Labour's Lost entitled Love's Labour's Won and Melchior Gabor in Spring Awakening.
This past year, Connor also began working on student film projects, notably starring in the lead role of the short film "Love You Baby".  Recently, Connor has become a go-to person for voice over work for both Seattle University's marketing and theatre departments, lending his voice to narration, parody trailers, radio spots, and pre-show announcements.  He is thrilled to be lending his voice to Paranormal Shopping Network and is always looking for new, exciting projects to work on.